The following blog post is guest written by Matt Peak – Managing Partner Peak Strategy Partners, LLC
It's not that often when innovators are handed a comprehensive platform that they can leverage to rapidly advance their technologies, but with September's announcement of the Carbon XPRIZE competition in New York City, that's precisely what happened to the innovators in the solar fuels community.
When we initiated development of what would become the Carbon XPRIZE in 2008, there was one predominantly discussed paradigm for industrial carbon mitigation: sequestration. Already, governments and others from around the world had poured billions of dollars into examining and testing this approach, yet the world had little to show for it. Challenges ranging from cost to logistics to outright "Not-in-My-Back-Yard" forestalled its advancement beyond a handful of pilot projects. With atmospheric carbon emissions continuing to grow, clearly alternative approaches needed to be identified and advanced in tandem with sequestration if society had any hope of averting a climate crisis.
Even back in 2008, we knew innovation existed. Carbon utilizing solar fuel technologies was just one approach to carbon mitigation that seemed underexploited. Add on to that approach additional forms of carbon utilization, such as those that are biologically based (think algae) as well as techniques to mineralize CO2 (think calcium carbonate) and an entirely different paradigm crystallized – one that utilized rather than buried CO2. Altogether, as part of work that I completed while under
contract with Colorado-based cooperative utility Tri-State Generation and Transmission Association, I identified and published a comprehensive accounting of 136 emerging carbon utilization approaches.
The economics of commercializing energy technologies can be challenging. What performs well and shows promise in the laboratory doesn't necessarily translate to scalable approaches that can mitigate gigatons of CO2 in a real world scenario. But directly financing all 136 identified technologies through the commercialization process – from R&D, through lab bench, pilot, and eventually commercial scale deployments – is prohibitive. What was needed was a tool to cost-effectively attract, empower, validate, reward, and catalyze promising innovation.
Fortunately such a tool exists in the form of inducement prize competitions. Such competitions have been around for hundreds of years, and have a consistent track record of attracting and focusing brilliant minds on a crucial barrier, prompting the development and application of conventional and unconventional solutions to the challenge at hand. A clock maker overcame the challenge of ocean navigation to win a prize. Prizes prompted the development of canned food as well as the commercial airline industry. The commercial space travel industry, which is now the primary method by which cargo is delivered to the International Space Station, emerged in the wake of a $10 million prize competition.
The magic of prizes is that they position innovators to leverage resources. The announcement of the prize is empowering. Whereas before a prize is announced, brilliant talent and financial interests may steer clear of what are perceived to be "quack" industries such as commercial air and space travel, the mere establishment of a prize affords legitimacy by which visionaries can henceforth attract smart, passionate people and other resources.
Yet this is just the tip of the iceberg. A thoughtfully designed prize competition affords innovators with multiple opportunities to network, recruit, tinker, publicize, fund raise, revise, improve, test, deploy, scale up, and commercialize their solutions. Perhaps the biggest attribute of a thoughtfully designed prize competition is that it can afford multiple winners in the post-competition marketplace, regardless of how many split the prize purse. For example, SpaceX did not win the $10 million Ansari XPRIZE for private space travel, yet is a leader in the private space travel industry.
We knew this going into the development of the Carbon XPRIZE. We had the benefit of hindsight to inform the prize development process, and we made the most of it. Seed funded by Prize Capital and subsequently by Tri-State G&T, I was fortunate to be put in the position of developing the prize, from conception onwards. Between 2009 and 2012, hundreds of phone calls and meetings took place, two prize development workshops were held, and nearly fifteen prize rulesets were drafted, revised, improved, and validated. Additionally, four publications were researched and produced establishing the intellectual basis for the technology category, its application in averting carbon emissions, its value to the commercial energy industry, and its merit as a prize competition.
We knew we were on to something when Tri-State joined our effort in 2010, and we knew the effort we put into developing the ruleset, validation process, intellectual basis, and other collateral material was paying off when Canada's Oil Sands Innovation Alliance (COSIA) joined the effort in 2013 and NRG in2014.
Additional wins came from the state of Wyoming, who committed to build a real-world test center to host the final phase of the Carbon XPRIZE. As early as 2009, we had identified a real world hosting facility as absolutely essential to validating carbon utilization technologies' real-world application and thus the integrity of any $10+ million prize competition.
While the participation of large industrial players and their commitment of significant sums of money to realize the vision we began developing so long ago is a triumph in of itself, the real winners of last month's Carbon XPRIZE launch announcement are carbon utilization innovators themselves, such as members of the Solar Fuels Institute (SOFI). In the wake of initiating and developing the Carbon XPRIZE, I've had the good fortune to serve as a strategic advisor to Dick Co and SOFI. In this capacity, and with insight into SOFI's platforms and resources, I had the same realization that I had six years ago regarding underexploited innovation. The beauty of this realization redux is that now there's a vehicle in place to exploit the innovation at a level that it deserves.
Anybody can compete in the Carbon XPRIZE. Whether one is a garage innovator, a passionate post-doc, a well-funded multinational, a weekend tinkerer, or anything else, the door is open. In exchange for entering the competition, competitors are embraced by and incorporated into a mechanism that is already gaining global media attention and exposure. Access is afforded to new online and real world collaborative tools and vehicles for technological development and advancement. Seated at the front row through this process are two industrial players who desperately wish to purchase and deploy final products. All are put forth simply for leveraging what innovators are already pursuing. Could there anything better than this?
Actually there could: SOFI. The most revolutionary and disruptive prize competitions have been launched within nascent fields. By nature, these fields are disparate, disorganized, and fragmented. For the most part, one could say the same things about the field of carbon utilization, if it weren't for the existence of SOFI.
SOFI's existence means that its members in effect have a head start on the competition. The fundamental process of organizing the industry has already taken place. Knowledge has been and continues to be disseminated to members. Lingering barriers are known, and working groups have been established to tackle such barriers. Members are informed of each other's as well as outsiders' capabilities and efforts. Funding pathways have been identified. And a framework for collaboration is already in place and proven. These elements comprise a competitive advantage for SOFI members.
My hope is that SOFI members will show up in force to compete in the Carbon XPRIZE. I hope that the Carbon XPRIZE lives up to its promise and potential to shower new resources on the industry, and that SOFI members recognize, are motivated by, and make the most of those new resources. But above all, my hope is that SOFI members will leverage the competitive advantage afforded by the institution of SOFI itself to better organize teams, attract superior talent, rapidly overcome challenges, and in turn win the Carbon XPRIZE.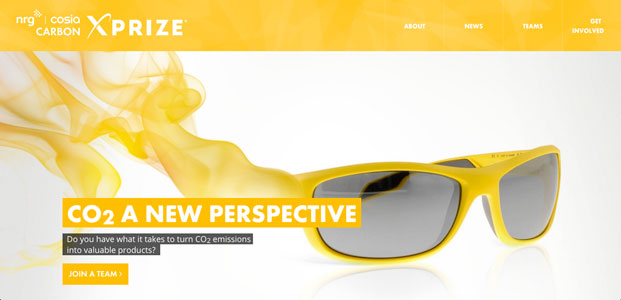 For the solar fuels industry, funding opportunities will come and go. I'm sure we haven't seen the last of them. Yet the opportunity to make rapid progress on the path to commercialization, leverage a platform with a proven record over hundreds of years, establish the legitimacy and validity of the approach of carbon utilization, garner unprecedented media attention, establish closer relationships with industry, reap the praise of concerned communities affected by climate change around the world, and to perhaps nab $20 million in the process is most definitely a once in a lifetime opportunity. This is SOFI members' moment to shine.
Editor's note: If you are interested in learning more about the development process of the Carbon XPRIZE, please check out Prize Capital's site – Carbon.
——
Matt Peak is Managing Partner of Peak Strategy Partners, a premiere technology facilitator in the areas of emerging transportation, automotive, climate and clean energy solutions. Between 2008 and 2015, Matt spearheaded Prize Capital's and Tri-State G&T's efforts to develop and implement platforms that attract, invest in, catalyze, and commercialize advanced point-source carbon mitigation technologies. In this capacity, Matt conceptualized, initiated, designed, and led the creation of what became the Carbon XPRIZE. Matt also researched, conceived of, and established the intellectual basis for what lead to the Integrated Test Center, a $20 million carbon innovation facility being built adjacent to Dry Fork Station near Gillette, Wyoming. Matt can be reached at Matt@PeakStrategyPartners.com or (213) 327-8935.