We're a global team of scientists with one goal:
make a carbon neutral fuel from
Help us fight climate change and solve the energy crisis. Join us.
Learn More
The SOFI team dreams big. We believe the development of a carbon neutral solar fuel is the greatest energy opportunity of our lifetime. Using just sunlight, carbon dioxide, and water, we can create a clean liquid fuel that could someday power our cars, airplanes, and homes without contributing to climate change. But it won't happen without a commitment to supporting research and collaboration. Our members include academic pioneers and industry leaders who are dedicated to working together, with us, to shape a new energy landscape. 
"I want Americans to win the race for the kinds of discoveries that unleash new jobs: converting sunlight into liquid fuel" – President Obama, State of the Union
Watch the video to learn more about how SOFI is trying to get liquid solar fuels out of the lab and into the marketplace.
Working in the field of solar fuels I am often asked "how close are we to a solar fuel?" The answer I give is "closer than you think." We already use fuels derived from the sun to power our lives. Consider the salad you had for lunch, the fruit in your smoothie, the...
Nearly a month after launching our Quick Categorization, we have over 350 items sorted into one of three main research thrusts: Light Management, Catalysis, and Functional Devices. Over 50% of the publications have been categorized as "catalysis" publications!...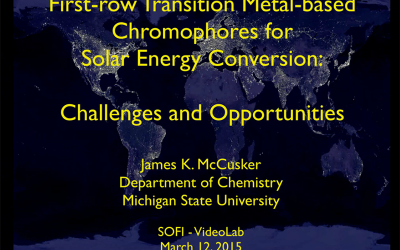 We've got another VideoLab in store for you! Jim McCusker describes the research his group is doing at Michigan State University. Watch the video.
"Because SOFI is scouting the industry for promising technologies instead of pitching its own wares, it represents an ideal partnership target."
– Lux Research "Alternative Fuels Journal" 9-2013